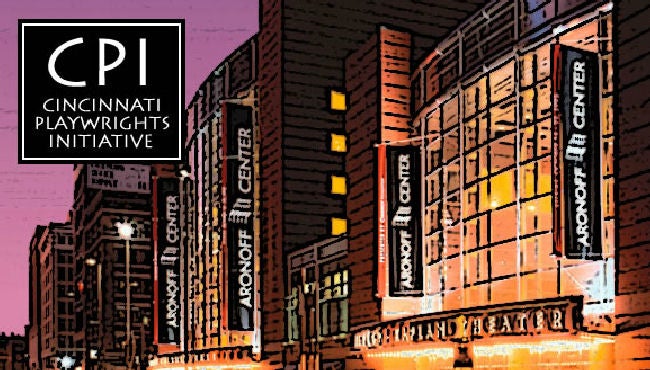 2021-2022 CPI New Voices Series
CINCINNATI PLAYWRIGHTS INITIATIVE (CPI)
Date

2021-22 NEW VOICES SERIES

Venue

Aronoff Center

Ticket Prices

$10.00
Event Details
The 2021-2022 CPI New Voices season includes nine staged-reading performances that are written by local artists in the Cincinnati Playwrights Initiative. Each performance includes a "talkback session" to gain audience feedback and to help playwrights improve their work.
2021-2022 CPI New Voices Series
Unfinished Business – written by Susan and Doug Decatur
September 14, 2021 - 7:30 PM
Fifth Third Bank Theater
Gary Douglas is a dejected, recently-divorced, sixty-year-old man. He joins a men's basketball league thinking he can return to something else he loved before. After joining the Shooting Stars basketball team, he learns that their goal becomes his: to get to the Final Four of the Senior Olympics. During this quest, Gary unexpectedly meets Susie Weston, a frustrated writer pursuing her own dreams and aspirations. Susie and Gary's fun and poignant journey together with Gary's teammates, and their spouses and friends, bring them all to a realization that it's never too late to triumph in life and love.
The Stands: A One Act Play – written by Eric Thomas
October 12, 2021 - 7:30 PM
Fifth Third Bank Theater
Two sets of parents meet at their sons' first high school baseball game. Marcus wants his son to love baseball as much as he did. Alex wants her son to be on track toward a scholarship. Pamela wants to protect her son from ridicule. Blair wants to make a friend. All relationships and expectations are challenged when the parents are confronted with a series of surprises, both on the field and in the stands.

At The Edge of the Light : A One Act Play – written by Chris Bishop
October 12, 2021 - 7:30 PM
Fifth Third Bank Theater
Three men from different backgrounds share a common secret. Each one must navigate the familial, religious and societal pressures forcing him to hide his true identity from the world and even himself. Each man struggles to find and reveal his true self on the border between the darkness of shame and fear, and the light of honesty and self-love.
Planting Grandma – written by Liz Coley
November 9, 2021 - 7:30 PM
Fifth Third Bank Theater
Gathered home to their father's deathbed vigil, middle-aged siblings Bran and Roni plan to undertake his last unfinished business, laying Grandma's long-neglected ashes to rest. Taking a shovel to the past creates a deeper hole than they bargained for, unearthing family history and exposing personal fears the siblings and their mother have kept buried.
Fan Appreciation Night, Kindergarten Form, All Our Tomorrows and Taking Care of Grandpa – written by Roger Brookfield
December 7, 2021 - 7:30 PM
Fifth Third Bank Theater
Fan Appreciation Night: A hockey tough-guy doesn't know what he's in for when he's sent to the penalty box.
Kindergarten Form: A personal item on a school questionnaire is too much for a mother to answer.
All Our Tomorrows: Two older people who've met in an L.A. motel lobby on a stormy night have to be courageous enough to get past a skunk in the courtyard in order to start a life for themselves.
Take Care of Grandpa: A twelve year old girl is put to the test of how well she can protect her grandfather from himself.
The Circle – written by Michael Defrancesco
January 11, 2022 - 7:30 PM
Fifth Third Bank Theater
A new inmate is assigned a prison cell. He is dominated by his cellmate who controls everything about their habitation, and who learns information dangerous to the newcomer--who has lived with his increasingly concerned mother as she observes his personality change from that of a passionately committed young man to a furtive alcoholic. The Circle reveals details of his downward spiral and desperate grasping at some sort of salvation.
Here's to Living – written by Leo Bradley
February 22, 2022 - 7:30 PM
Fifth Third Bank Theater
Living and enjoying a full and satisfying life while growing old is proving to be a challenge to Jesse Kincaid as he grapples with the challenges of retirement. Everyone around him, both family and friends, seems to feel he is "losing it" and is in dire need of advice as to how to live out his life.
His daughter is worried about both his health and how to preserve his life-long accumulated wealth. The fact that Jesse thinks love can still happen at any age only increases the family tensions.
Jesse's friends, ranging from former professional colleagues to financial, legal, real estate advisors, and golf partners, all have different perspectives on needed changes in Jesse's life.
Helping Jesse to navigate this labyrinth is Glenn, his life-long friend and soul mate. Together they attempt to convince themselves and others to not stand on the shoreline and watch the river flow by, but to sail their vessels until the river runs dry.
The Reset –written by Ed Clark
March 22, 2022 - 7:30 PM
Fifth Third Bank Theater
Two down and out playwrights join forces and compete to have their play be the first one produced once Covid restrictions are relaxed. They create a play on the fly about a chef who has Covid, but they begin to lose control of the plot when the chef's hallucinations spawn a character who may be Covid personified. Lives, loves, egos, and community hang in the balance in a wild and funny drama that meets the moment.
Foolsfest : An Evening of Eight Ten-Minute Plays
April 12, 2022 - 7:30 PM
Fifth Third Bank Theater
Roads Less Traveled – written by Fred Rothzeid
June 7, 2022 - 7:30pm
Jarson-Kaplan Theater
Four plays about love, longing, friendship and revenge
WAITING ROOM – He believes he's waiting to die. She believes he's waiting to live.
INCOMING TIDE (Beneath Lovers Arch) – There are said to be 50 ways to leave your lover. Now there are 51.
CASSIE – What does the future hold? Sometimes just the opposite of what you expect.
ONCE AND FOREVER – How long can love last? Maybe longer than you think.
REVIEW OUR CURRENT COVID-19 HEALTH AND SAFETY GUIDELINES