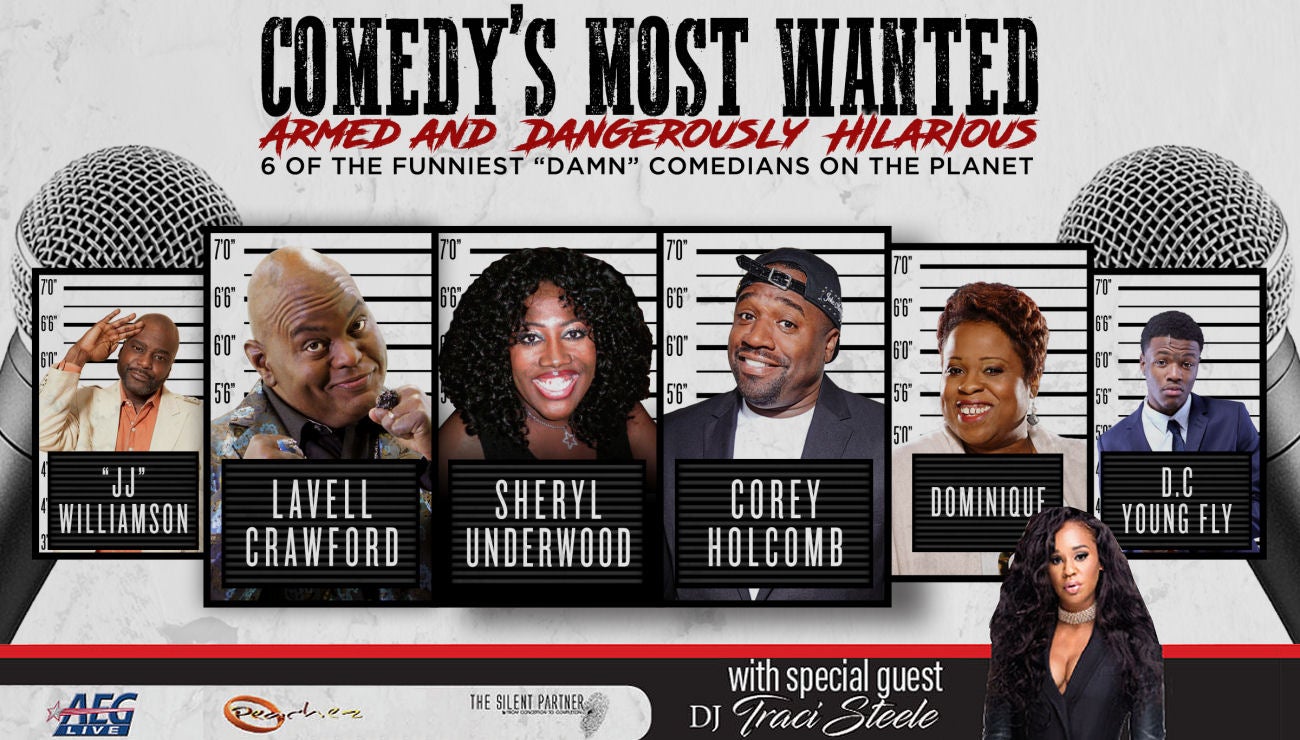 Comedy's Most Wanted
Presented by AEG Live, Peachez & The Silent Partner
Apr

28

, 2017

7:30PM

Aronoff Center

Procter & Gamble Hall

Buy Tickets

$ 102.50
$ 82.50
$ 62.50
$ 42.50
Comedy's Most Wanted
Presented by AEG Live, Peachez & The Silent Partner
COMEDIAN SHERYL UNDERWOOD JUST ADDED TO THE LINE-UP!
Six of the funniest 'damn' comedians on the planet have come together for the COMEDY'S MOST WANTED TOUR. Produced by AEG Live, Peachez and The Silent Partner, event spectators will laugh non-stop at the armed and dangerously hilarious comedians: Lavell Crawford; Corey Holcomb; Sheryl Underwood; J.J. Williamson; Dominique; and DC Young Fly. Celebrity DJ Traci Steele will not only warm up the crowd before the show, but will also keep the crowd engaged and entertained in between sets by spinning all the hits from back-in-the-day and current hits from today.
Funny man Lavell Crawford is quickly climbing the comedic ranks and becoming one of the hottest stars in the biz today. Lavell gained huge national exposure on NBC's hit reality series 'Last Comic Standing'. Lavell's stand-out work includes appearances on 'Shaquille O'Neal Presents: All Star Comedy Jam', 'Russell Simmons' Def Comedy Jam', 'Comedy Central's Premium Blend', 'Motown Live' and BET's 'Comic View'. In addition, Lavell has appeared in the films Baby's Mama Drama, Beverlyhood and Ghetto South Problems and on the televised series "The Jamie Foxx Show', 'Workaholics' and 'Breaking Bad'.
Corey Holcomb hit his first open mic in 1992 when Adele Givens called him to the stage. He was a smashing success and has been a full-time comedian ever since. Corey's film and television credits include the films Think Like A Man Too and Wedding Ringer, NBC's 'Last Comic Standing' and 'The Tonight Show', BET's 'Comic View', Fox's 'Mad TV', Comedy Central's 'Premium Blend', HBO's 'Def Comedy Jam', 'It's Showtime at the Apollo' and Showtime's 'Shaq's All Star Comedy Jam'.
Dominique is the new face of funny in America. She's created laughs on stages all across the world, including nationally syndicated 'Tom Joyner Morning Show', NBC's 'Last Comic Standing', HBO's 'Def Comedy Jam', Comedy Central's 'Chappelle's Show', and O.W.N.'s 'Herlarious'. She quickly gained notoriety for telling it like it is, raw and uncut. In a pre-internet world, Dominique's fan-base grew quickly and word of her talent drew attention. Fans turn to Dominique for funny, informative, and memorable stories and guaranteed laughs.
Hard work and enthusiasm has promoted Jeremiah (J.J.) Williamson into a very successful start in the entertainment industry. He has worked with comedy giants such as Chris Tucker, D.L. Hughley, Rickey Smiley and Bruce Bruce. He has electrified stages across the country with Cedric 'The Entertainer' during the summer tours. His ability to move the crowd with consistent delivery has given him an abundance of positive exposure and support in the field of entertainment.
After realizing his gifts through singing in the church choir, DC Young Fly fell in love with entertainment. His passion to entertain, developed into a large following of over 4 million followers through social media outlets that include Facebook, Instagram, YouTube and even Vevo. He is currently on Nick Cannon's hit show on MTV2 'Wild'n Out' and Charlemagne's The God's Show 'Uncommon Sense'.
Traci Steele is a TV/Radio Personality, Entrepreneur, Fashionista and Renowned celebrity DJ. She got her start at Hampton University which soon evolved and elevated Steele into an On-Air Personality on HOT 102.1 FM in Virginia Beach, VA. Steele can now be heard every Sunday from 2pm - 6pm on Atlanta's Hottest Hip Hop Station 107.9FM. Steele's notoriety garnered a touring opportunity with some of the most elitist names in the music industry: Musiq Soulchild, Jazmine Sullivan, and Ne-Yo. You can catch her now as a Co Host to the legendary Donnie Simpson for their new late night talk show 'Donnie After Dark' airing on TV One.
Share