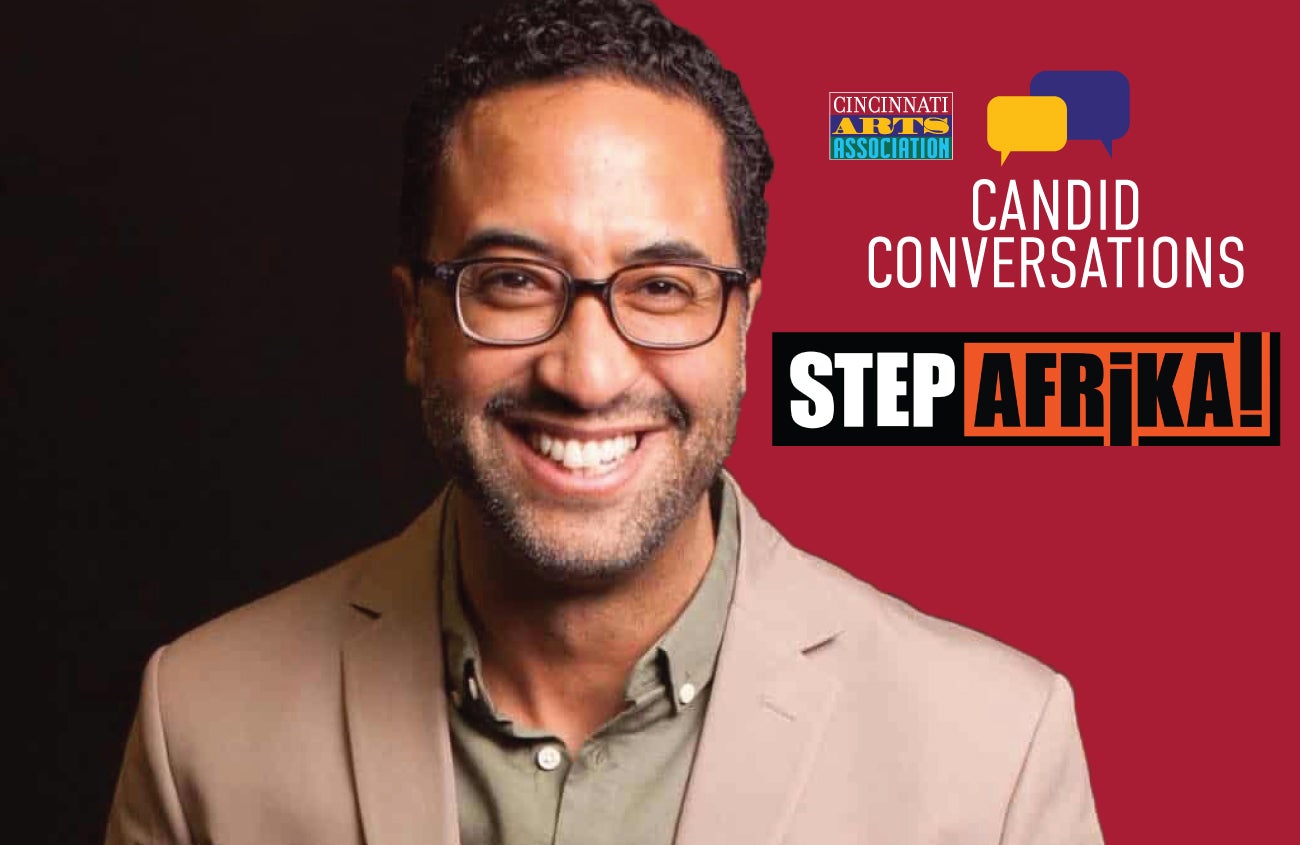 Candid Conversations - Step Afrika!
Presented by Cincinnati Arts Association
Ticket Office
(513) 621-ARTS [2787]
Promo Code
Date

Jun

8

, 2021

Time

7:30PM

Venue

Virtual

Availability

Buy Tickets

Ticket Prices

$6.00 Performance or Conversation
$10.00 Both
Candid Conversations - Step Afrika!
Presented by Cincinnati Arts Association
Join national and local artists in intriguing discussions about the impact of their work on social justice, community wellbeing, and equity. Presented by the Cincinnati Arts Association, Candid Conversations is an opportunity to start a dialogue concerning the effects of racism on artists of color and arts communities as a whole, as well as the journey toward change.
This fourth in a series of five virtual Candid Conversations features C. Brian Williams, Founder and Artistic Director of Step Afrika!, who will be joined by local artists for an honest and open discussion about how their personal journeys and their work relate to the history and practice of racism in our country.
The Candid Conversation is moderated by Ida Rachel Smith – Senior Talent Acquisition Specialist; Career Transitional Coach; Member, Cincinnati Arts Association's Building Diverse Audiences Advisory Committee (BDAAC).
The local artists joining the conversation with C. Brian Williams include:
David Choate – Founder and Producing Artistic Director, Revolution Dance Theatre
Jeaunita Ìfẹ́wándé Château Olówè – Founder, Ìfẹ́wándé Cultural Programs; Dance Faculty for African Dance Forms and Dance For Fitness, Northern Kentucky University; Arts and Culture Artist-in-Residence, Cincinnati Public Schools; Founding Board Member and Dance Education and Training Committee Co-Chair, Greater Cincinnati Dance Alliance
Candid Conversation purchasers receive access to the live conversation via Zoom on Tuesday, June 8 at 7:30 PM AND a link to an on-demand recording which will be available for two weeks (the link to the recording will be emailed on Friday, June 11).
Step Afrika! presents Stono - virtual performance
Step Afrika!'s powerful, pulsing, world premiere piece, Stono, highlights the spirit of resistance and activism of a part of American history that has often been overlooked. The virtual experience is 30 minutes in length.
Step Afrika! performances are much more than dance shows; they integrate songs, storytelling, humor, and audience participation. The blend of technique, agility, and pure energy makes each performance unique and leaves the audience with their hearts pounding. MORE INFO
These virtual events may be purchased separately at $6.00 each,
or in combination for $10.00.

---
THANK YOU TO OUR GENEROUS SPONSORS
Ameritas, ArtsWave, Fifth Third Bank,
Greater Cincinnati and Northern Kentucky Honda Dealers,
Procter & Gamble Fund, St. Gregory Group, TriHealth
Share