Arts Educator Award
for Excellence in Arts Instruction
The Arts Educator Award promotes and rewards excellence in arts instruction throughout Greater Cincinnati. Students nominate an educator through video submission that describes the impact the educator has had on his/her students. The winner of the 2020 award will receive $2,500, and two finalists will receive $500 each. The winner will be announced at the Overture Awards Final Competition & Awards Ceremony on Saturday, March 7, 2020.
The recipients of the Arts Educator Award may utilize the monetary award to strengthen their program or practice, e.g. artist fee for guest lecturer or master class, purchase of equipment, professional learning opportunity, such as for tuition assistance for either the educator or for students to study with the recipient or another professional.
---
Deadline January 27, 2020
Congratulations to the 2020 Arts Educator Award winner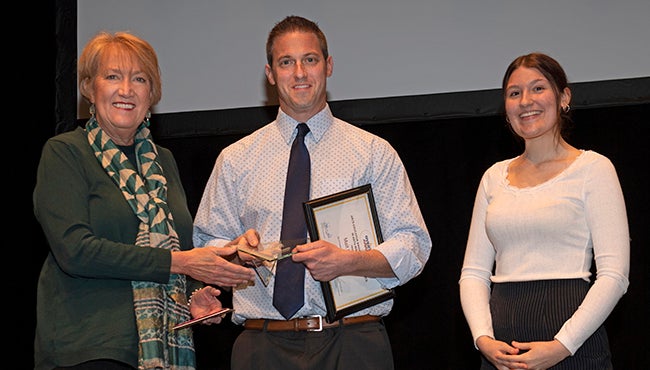 Matt Eckerle, Notre Dame Academy (center)
Discipline: Visual Art
Nominated by Kenzie Eberhart (right)
Presenting Award: Jayne Utter, Summerfair (left)
2020 Arts Educator Award Finalists
See nominating videos for the 2020 Arts Educator Finalists, click on links below
---
Gina Cerimele-Mechley the winner of the 2015 Arts Educator Award!
"Thanks to the Cincinnati Arts Association's Arts Educator Award, I was able to bring two more FULL scholarship students this year to Cincinnati Actor's Studio & Academy. They are both making great strides and growing not only as performers, but as people! It makes my heart jump to know that they are able to be a part of a motivational and life-changing program. Please know that the award money is making a direct difference on students' lives!" – Gina Cerimele-Mechley, 2015 Arts Educator Award winner and artistic director, Cincinnati Actor's Studio & Academy (CASA)
Arts Educator Award Winner Gina Cerimele-Mechley (right) and her student Kate Coley (left)