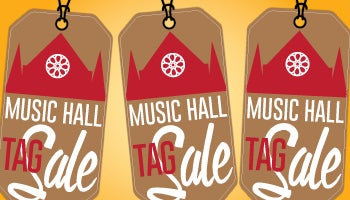 Music Hall Tag Sale: Pre-sale and Public Sale Dates RESCHEDULED
Nov 11, 2016
Music Hall Tag Sale: Pre-sale and Public Sale Dates RESCHEDULED
NEW DATES: Fri., Nov. 18 (pre-sale event); Sat., Nov. 19 - Wed., Nov. 23 (public sale)
The Music Hall Tag Sale Early Bird event (ticketed event), scheduled for this evening, Friday, November 11 from 6:00 PM – 9:00 PM at the Wooden Nickel Antiques' warehouse at 1515 Central Parkway, has been postponed until next Friday, November 18 from 6:00 PM – 9:00 PM. The public sale dates (non-ticketed) have been rescheduled to Saturday, November 19 – Wednesday, November 23.
Tickets for this evening's rescheduled pre-sale event will be honored on the new date – next Friday, November 18. For those who cannot attend on this date, refunds are available by contacting the Aronoff Center Ticket Office at (513) 621-2787 or ticketin[email protected].
The decision to reschedule is a precaution regarding potential reaction to the Tensing trial, the proximity of the sale site to District One, and convenient access to the sales venue. The event is presented by Wooden Nickel Antiques, which is excited about the prospect of finding new homes for many of Music Hall's memorabilia items. The Wooden Nickel is Cincinnati's leader in architectural recycling and Music Hall's neighbor in Over-the-Rhine.
New Music Hall Sale Dates:
PRE-SALE EVENT (see below for ticket information to this event)
Friday, November 18 from 6:00 PM – 9:00 PM
PUBLIC SALE (tickets not required for these sale dates)
Saturday, November 19, 9:00 AM – 5:00 PM
Sunday, November 20, 10:00 AM – 5:00 PM
Monday-Wednesday, November 21-23, 10:00 AM - 4:00 PM
Sales after the above dates by appointment only.
Tickets for the rescheduled pre-sale event on November 18 are $25 and are on sale now at www.CincinnatiArts.org, (513) 621-ARTS [2787], and the Aronoff Center Ticket Office. Tickets will also be available at the event on November 18.
Following the closure of Music Hall this past May for extensive renovations, portraits, statues, artworks, and many other items were moved into storage prior to the early demolition phase of the project. While the theater's most recognizable artifacts will be reincorporated into Music Hall, many other items, including theater and box seats, gilt mirrors, aluminum chairs from Music Hall's ballroom, benches, decorative hardware, poster displays, and lighting fixtures are surplus to the Music Hall project and will be made available to the general public in support of the renovation of this historic Cincinnati landmark.
Proceeds from the sale will benefit the Society for the Preservation of Music Hall, a 501 (c)(3) charitable organization founded to preserve, promote, improve, and provide education about Music Hall.
Share