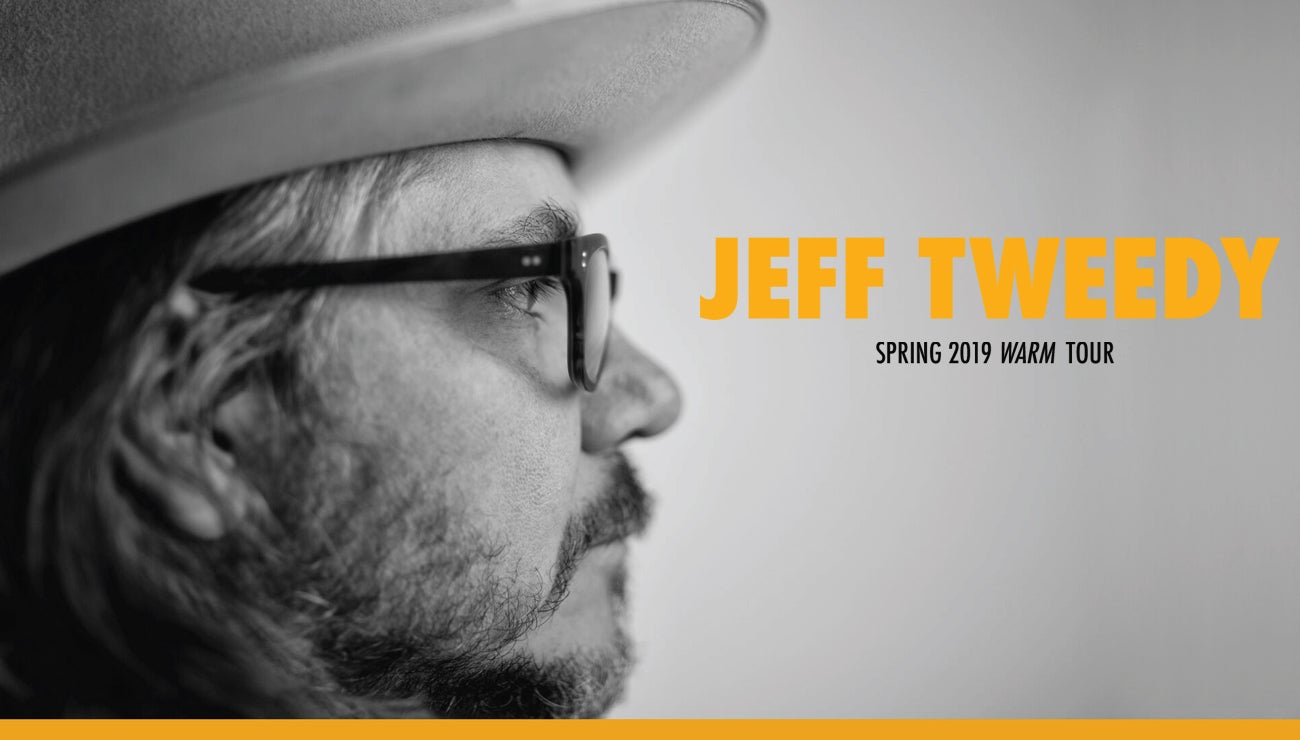 Jan 11, 2019
JEFF TWEEDY – WARM TOUR
WEDNESDAY, APRIL 17 | MUSIC HALL BALLROOM
CINCINNATI, OH – Jeff Tweedy has just announced additional US tour dates in support of his album, WARM, released this past November via dBpm Records. His WARM Tour plays the Cincinnati Music Hall Ballroom on Wednesday, April 17, 2019 at 7:30 PM. The show is part of Cincinnati Arts Association's 2018-19 Presenting Season.
Tickets go on sale Friday, January 11 at 7:00 PM at www.CincinnatiArts.org, (513) 621-ARTS [2787], and the Aronoff Center and Music Hall Ticket Offices.
Additionally, Jeff Tweedy will appear on Jimmy Kimmel Live! on January 9, performing songs off WARM. Jeff's last television appearance was on the Late Show with Stephen Colbert, shortly before the release of his intimate and wryly honest memoir (and New York Times Bestseller) LET'S GO (SO WE CAN GET BACK). Since then, he's sold out an east coast and Midwest book tour, played four consecutive sold-out shows at Largo, and has garnered astounding praise for WARM, receiving "Best New Music" by Pitchfork and being included on many year-end lists such as Rolling Stone, Consequence of Sound, Wall Street Journal, and Aquarium Drunkard.
LISTEN TO WARM -
WATCH "I KNOW WHAT IT'S LIKE" VIDEO -
WATCH "SOME BIRDS" VIDEO -
PURCHASE LET'S GO (SO WE CAN GET BACK) -
JEFF TWEEDY TOUR DATES (new dates in bold)
Thu. Jan. 3 - Los Angeles, CA @ Largo at the Coronet Theatre [SOLD OUT]
Fri. Jan. 4 - Los Angeles, CA @ Largo at the Coronet Theatre [SOLD OUT]
Sun. Jan. 6 - Los Angeles, CA @ Largo at the Coronet Theatre [SOLD OUT]
Mon. Jan. 7 - Los Angeles, CA @ Largo at the Coronet Theatre [SOLD OUT]
Wed. Feb. 27 - Iowa City, IA @ Englert Theatre w/ Buck Meek [SOLD OUT]
Thu. Feb. 28 - St. Louis, MO @ The Pageant w/ Buck Meek [SOLD OUT]
Fri. March 1 - Oklahoma City, OK @ The Auditorium w/ Buck Meek [SOLD OUT]
Sun. March 3 - Dallas, TX @ Majestic Theatre w/ Buck Meek
Mon. March 4 - Austin, TX @ Paramount Theatre w/ Buck Meek [SOLD OUT]
Thu. March 7 - Germantown, TN @ Germantown Performing Arts Center w/ Buck Meek
Fri. March 8 - Birmingham, AL @ Lyric Theatre w/ Buck Meek [SOLD OUT]
Sat. March 9 - Macon, GA @ Hargray Capitol Theatre w/ Buck Meek
Mon. March 11 - Ponte Vedra, FL @ Ponte Vedra Concert Hall w/ James Elkington [SOLD OUT]
Tue. March 12 - Tallahassee, FL @ The Moon w/ James Elkington
Thu. March 14 - Tampa, FL @ Tampa Theatre w/ James Elkington
Fri. March 15 - Ft. Lauderdale, FL @ The Parker Playhouse w/ James Elkington
Sun. March 17 - Orlando, FL @ The Plaza Live Theatre w/ James Elkington
Tue. March 19 - Asheville, NC @ The Orange Peel w/ James Elkington [SOLD OUT]
Wed. March 20 - Nashville, TN @ James K. Polk Theater w/ James Elkington
Thu. March 21 - Indianapolis, IN @ Egyptian Room @ Old National Centre w/ James Elkington
Sun. March 31 - Columbus, OH @ Davidson Theatre w/ Buck Meek
Mon. April 1 - Ann Arbor, MI @ Michigan Theater w/ Buck Meek
Wed. April 3 - Toronto, ON @ The Queen Elizabeth Theatre w/ Buck Meek
Thu. April 4 - Pittsburgh, PA @ Carnegie Lecture Hall of Oakland w/ Buck Meek
Sat. April 6 - Boston, MA @ Berklee Performance Center w/ Buck Meek
Mon. April 8 - New York, NY @ The Town Hall w/ James Elkington
Tue. April 9 - New York, NY @ The Town Hall w/ James Elkington
Wed. April 10 - Washington, DC @ Lincoln Theatre w/ James Elkington
Fri. April 12 - Savannah, GA @ Lucas Theatre for the Arts
Sat. April 13 - Decatur, GA @ Amplify Decatur/Decatur Square
Sun. April 14 - Chattanooga, TN @ Walker Theatre w/ James Elkington
Tue. April 16 - Louisville, KY @ Headliners Music Hall w/ James Elkington
Wed. April 17 - Cincinnati, OH @ Cincinnati Music Hall Ballroom w/ James Elkington
Thu. April 18 - Champaign, IL @ Virginia Theatre w/ James Elkington
WILCO TOUR DATES
Wed. June 12 - Brussels, BE @ Ancienne Belgique
Thu. June 13 - Brussels, BE @ Ancienne Belgique
Sat. June 15 - Amsterdam, NL @ Paradiso
Sun. June 16 - Amsterdam, NL @ Paradiso [SOLD OUT]
Tue. June 18 - Lille, FR @ Aeronef Club
Wed. June 19 - Rouen, FR @ Le 106
Thu. June 20 - La Rochelle, FR @ La Sirene
Sat. June 22 - Vitoria-Gasteiz, ES @ Azkena Rock Festival
Fri. June 28 - Sun. June 30 - North Adams, MA @ Solid Sound Festival
Wilcoworld.net | Facebook | Twitter | Instagram
For more information, contact:
Jessica Linker, Jacob Daneman & Sam McAllister |
[email protected], [email protected], [email protected], 773-271-6844
Share