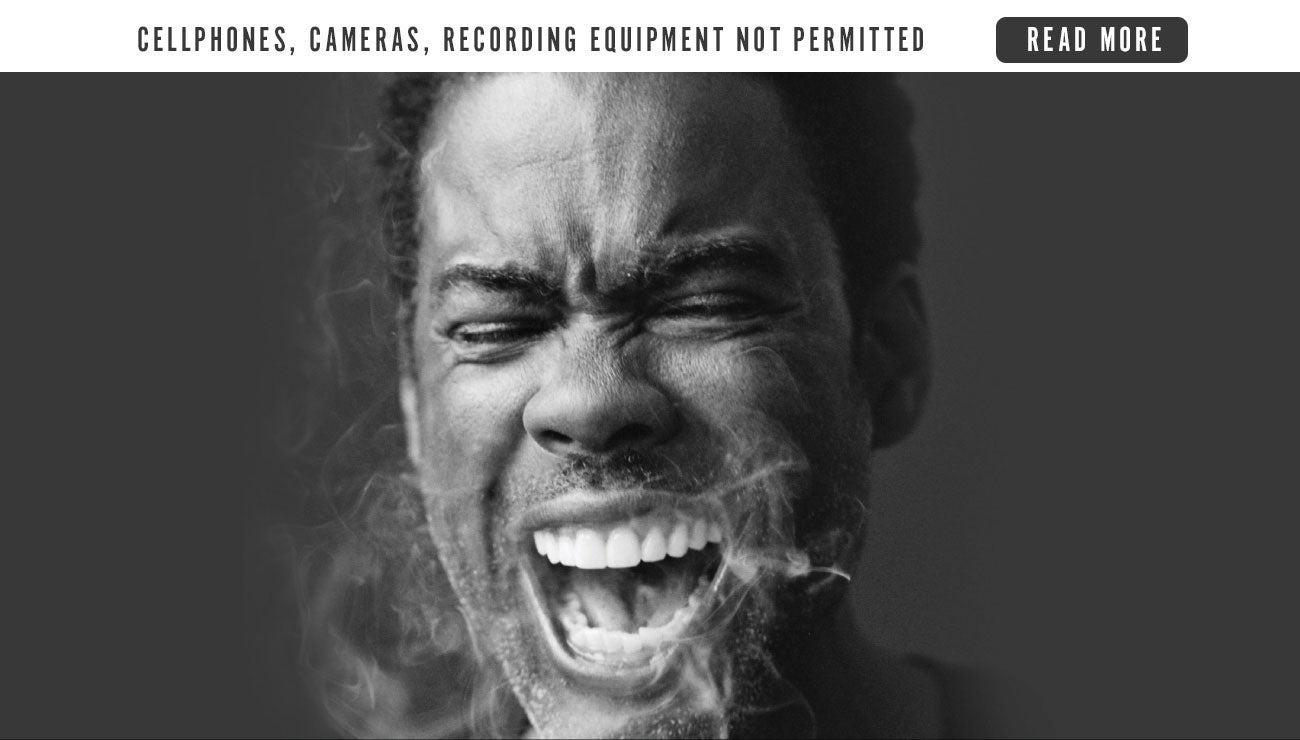 Chris Rock: Total Blackout Tour 2017
Presented by Live Nation
Feb

16 - 17

, 2017

Aronoff Center

Procter & Gamble Hall

$ 125.00
$ 69.50
$ 49.50
Chris Rock: Total Blackout Tour 2017
Presented by Live Nation
No cellphones, cameras or recording devices will be allowed at Chris Rock's Total Blackout Tour. Upon arrival, all phones and smart watches will be secured in Yondr pouches that will be unlocked at the end of the show. Guests maintain possession of their phones throughout the night, and if needed, may access their phones at designated Yondr unlocking stations in the lobby. All guests are encouraged to print their tickets in advance to ensure a smooth entry process. Anyone caught with a cellphone in the venue will be immediately ejected. We appreciate your cooperation in creating a phone-free viewing experience.
Lauded by peers and critics alike, Chris Rock is one of our generation's strongest comedic voices. As an actor, director, producer and writer he has created many memorable moments.
With a career spanning more than three decades, Rock has enjoyed ongoing success in both film and television as a comedian, actor, writer, producer and director. Rock returned in 2016 to host the 88th Annual Academy Awards. In the past year, he has directed HBO's comedy special 'Amy Schumer: Live at the Apollo', guest-starred on the hit series 'Empire' and made an appearance in the upcoming Netflix holiday special 'A Very Murray Christmas', starring Bill Murray. In 2014 he led the ensemble cast of Top Five, a critically acclaimed comedy feature that he also wrote and directed. His feature acting credits include the Grown Ups and Madagascar franchises, Head of State, Nurse Betty, CB4, Death at a Funeral, I Think I Love My Wife, 2 Days in New York, Dogma and New Jack City. His television work includes serving as executive producer, writer and narrator for the series 'EverybodyHates Chris', which ran from 2005 to 2009, and as a cast member on 'Saturday Night Live' from 1989-1993.
Rock has won four Emmy Awards, three Grammy Awards and is a New York Times Best-Selling Author. In addition, he received two nominations for the 2016 Emmy Awards, for Outstanding Director for a Variety Special for 'Amy Schumer: Live at the Apollo', and Outstanding Special Class Program for the '88th Annual Academy Awards'.
Share