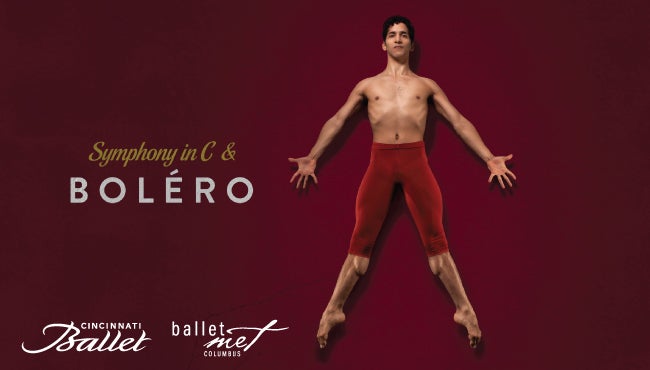 Boléro and Symphony in C
Presented by Cincinnati Ballet
Mar

28 - 29

, 2014

Aronoff Center

Procter & Gamble Hall

Single tickets start at $32 (Prices subject to change)

Cincinnati Ballet
Boléro and Symphony in C
Presented by Cincinnati Ballet
Choreography: Boléro, Victoria Morgan; Symphony in C, George Balanchine © The George Balanchine Trust

Runtime: 1 Hour 48 Minues (Act 1 - Wunderland: 28 minutes/20 minute intermission; Act 2 - Boléro: 18 minutes/15 minute intermission; Act 3 - Symphony in C: 27 minutes)

Returning for the third time to Cincinnati Ballet by popular demand, Boléro is the most famous of composer Maurice Ravel's works. Choreographed by Morgan, Boléro builds musically upon a steady drum line, with solitary, seductive instrumentation taking the spotlight. The dancing runs in perfect parallel, as Boléro shows the progression of young dance students to accomplished corps members to flawless principals. Morgan tailors each production of Boléro to the current company, ensuring that the respective strengths and unique talents of each dancer is fully realized and celebrated. Boléro is a true testament to talent and growth.

Created by world-renowned choreographer George Balanchine,Symphony in C is set to composer Georges Bizet's once-lost Symphony in C. This classical ballet is the epitome of the marriage of movement to music on stage, and is filled with Balanchine's appreciation of lines and structure. Four movements compose Symphony in C, each one varying in intensity, tone and theme, coming together for the impressive grand finale. New York Times critic Alastair Macaulay describes Symphony in C as 'the most exhilarating piece in world repertory'. Both Cincinnati Ballet and BalletMet dancers will perform Symphony in C.
Share