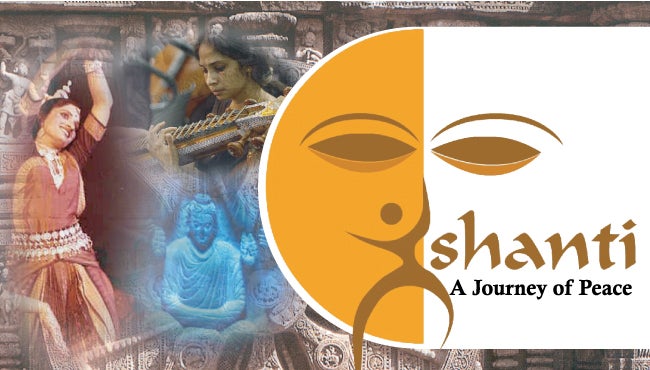 SHANTI: A JOURNEY OF PEACE - Sat., April 5 - on sale now
Feb 11, 2014
SHANTI: A JOURNEY OF PEACE - Sat., April 5 - on sale now
More than 200 performers from five award-winning choirs will come together in the spirit of joy and harmony as the Cincinnati Arts Association presents Shanti: A Journey of Peace on April 5, 2014 at 8:00 PM at the Aronoff Center's Procter & Gamble Hall. A previous, sold-out engagement of Shanti played the Aronoff Center on March 25, 2006.
Tickets are on sale now at www.CincinnatiArts.org, (513) 621-ARTS [2787], and the Aronoff Center Ticket Office. Group discount tickets for 10 or more are available by calling (513) 977-4157.
Shanti: A Journey of Peace is an expansive and collaborative performance that explores the meanings and message of peace, joy, and the interconnectedness of us all through dance, music, and images of India. Representing the ultimate meeting of Western and Eastern cultures, this acclaimed multi-media performance – which premiered to a capacity audience on May 1, 2004 at the University of Cincinnati's Great Hall and launched the Indo-American choral movement in the US – will be recreated at the Aronoff Center with a 150-member combined choir from the Greater Cincinnati Indian Community Choir, Young Professionals' Choral Collective of Cincinnati, Mt. Washington Presbyterian Church Choir, Martin Luther King Coalition Chorale, and MUSE – Cincinnati's Women Choir; a Western chamber orchestra, and an ensemble of traditional Indian instruments. This 10th anniversary performance of Shanti will be performed on a musical score that cuts across cultures, integrating choral and orchestral harmony with the ancient raga traditions of India; a multi-genre Indian classical and folk dances; and spectacular imagery.
Shanti explores the idea of peace through an audio-visual interpretation of chants and ancient prayers in a concert setting that synthesizes several musical and dance traditions. The Shanti experience also presents some ancient thoughts (that are also strikingly modern) that expound the possibility of living in harmony with the universality of creation, and embracing the splendor of its richness, plurality, and diversity.
Shanti is an important milestone for Cincinnati, signifying the continued metamorphosis of the metro region into a melting pot of cultures, and adding yet another yet another dimension to its thriving arts and culture scene.
Kanniks Kannikeswaran (Shanti creator/director)
Kanniks is an award-winning visionary composer, music educator, and scholar whose work has been performed in and has had an impact in several parts of the world. He is the recipient of the prestigious McKnight Fellowship and the Ohio Heritage Fellowship. Kanniks is the pioneer of the Indian American choral movement. His far reaching work in this area has led to the founding of Indian community choirs in several places, such as Allentown, PA; Tampa, FL; Houston, TX; Minneapolis, MN; Toronto, ON; Washington, DC; and The Hague (Netherlands). The Greater Cincinnati Indian community choir that he founded secured two silver medals in the prestigious Champions category in the 7th World Choir Games, held in Cincinnati in the Summer of 2012. His work was featured recently on National Public Radio.
Kanniks has collaborated with artists such as Lakshmi Shankar, Mallika Sarabhai, and with the Cincinnati Chamber Orchestra and the Cincinnati Pops, and his work has been performed by large ensembles at the National University of Singapore. Kanniks has been teaching at the University of Cincinnati – College-Conservatory of Music as part of its Adjunct Faculty since 1994. His award-winning research on the 18th-century Indo Colonial music of India is beginning to have an impact on Indian musical pedagogy. Kanniks is often described as a renaissance personality who effortlessly traverses diverse disciplines such as music, spirituality, and management. Kanniks is a powerful speaker and has lectured extensively on Indian culture and music all over the United States and in other parts of the world. He is the founder of the 'American School of Indian Art', an Institution committed to bringing the best of the East and the West to the Indian American Diaspora and beyond.
To learn more about Kanniks, visit www.kanniks.com.
CINCINNATI ARTS ASSOCIATION SPONSORS
Season Sponsors: AMERITAS (Founding Season Sponsor), CADILLAC Dealer Local Marketing Group, FIFTH THIRD BANK (Lifetime Endowment Partner), FURNITURE FAIR, LOCAL12 WKRC, The P&G FUND of The Greater Cincinnati Foundation
Shanti Presenting Sponsors: TCS (Tata Consultancy Services), Office of Diversity – University of Cincinnati, Car-X Tire & Auto / Oil Express, Trayak, Vora Ventures, The Tangemen Sacred Music Center – University of Cincinnati
"CAA PRESENTS" SPONSORS: Coldwell Banker/West Shell, Heidelberg Distributing, Macy's, Ultimate Air Shuttle, Wells Fargo Insurance Services USA, Inc.
SEASON PRESENTING SPONSORS: Cincinnati Bell, Cincinnati Herald, CityBeat, Hilton Cincinnati Netherland Plaza, Millennium Hotel, Pepsi, Skyline Chili
---
Founded in 1992, the Cincinnati Arts Association (CAA) is a not-for-profit organization that oversees the programming and management of the Tri-state's finest performing arts venues – the Aronoff Center for the Arts and Music Hall – and is dedicated to supporting performing and visual arts. Each year, CAA presents a diverse schedule of events; serves more than of 600,000 people in its venues; features the work of talented local, regional, and national artists in the Weston Art Gallery (located in the Aronoff Center); and supports the work of more than one dozen resident companies. Since the inception of its acclaimed arts education programs in 1995, CAA has reached more than 1.3 million students.
Share